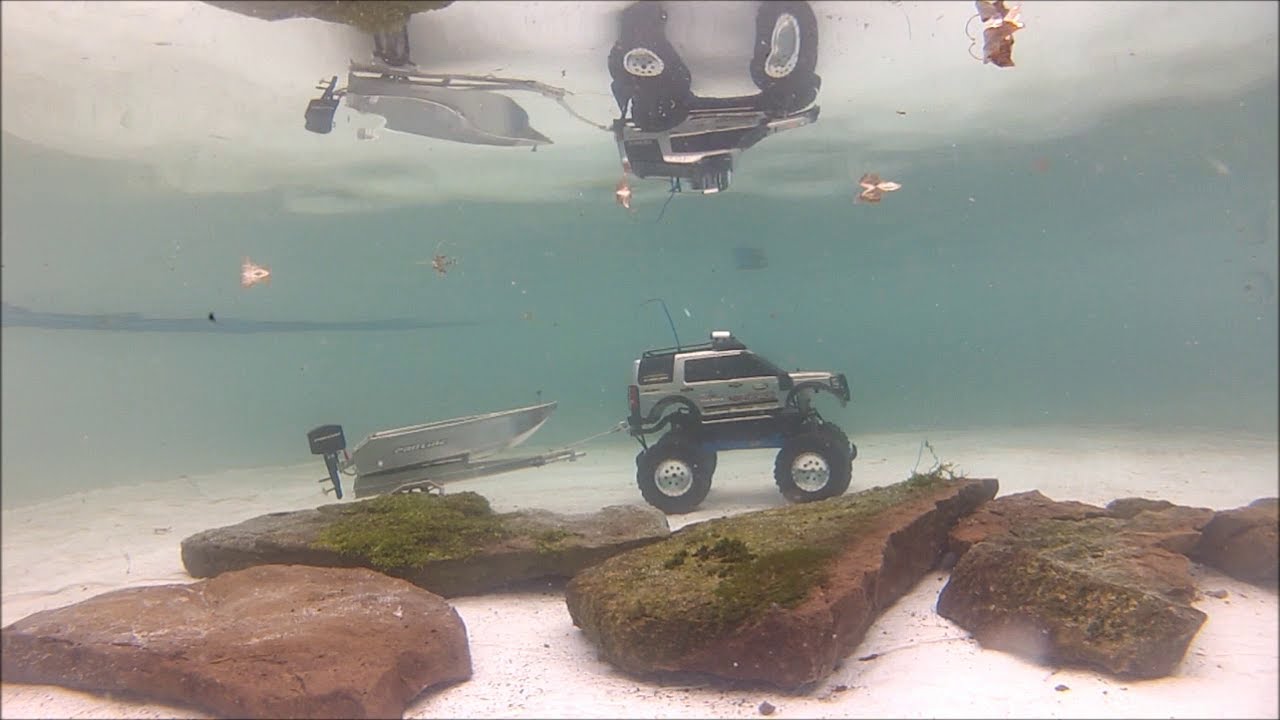 Waterproof your Rock Crawler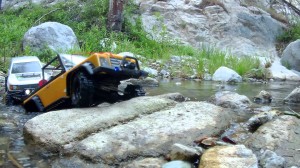 Many modern RC trucks and rock crawlers already come with waterproof electronic components, while others don't.  If not, no need to worry! There's a way to fix that.
This guide is intended to help waterproof your electronics only.  Any time you expose metal components to water, you are increasing the chance on corrosion and rust.  Such components are (but not limited to) axles, bearings, linkages, screws, etc.  After getting your rock crawler truck wet, make sure it is fully dried and any pooling is gone.  Approach waterproofing cautiously, as there are many opportunities for water to cause damage; but with care can be a rewarding experience.
The idea moving forward is to seal and cover up any exposed metal conductive components.  You may find other ways, and choose to deviate, but this are the methods that I have found to work.  Even if I didn't plan to splash my rock crawler into puddles, I would still enact a decent amount of waterproofing just to keep dirt and dust out of the electrical components.  I like to use the term "environment proof".
Lets do this component by component
Motor
Starting with the easiest.  The motor doesn't need any waterproofing at all!  Underwater submersion is even a method that many folks use to break in their electric motors.  Just make sure that it is fully dried after wetted, else you'll have corrosion city.  Remember that all bearings within the motor (and all throughout the truck for that matter) require oil, so after getting your rock crawler drenched, don't forget to re-lube them.
Servo waterproofing
Many people believe that servos function just like small motors with gears, and therefore don't need to be protected, just like your drive motor.  Kind of makes sense, until you realize that there is a circuit board that modulates servo rotation.  Not to mention its hard to get water out, once it has entered the servo box.  The main idea is to seal the servo output shaft.
To waterproof servos, you have a couple options
1.) Balloon Method:  Simply poke a hole smaller than the output shaft through the balloon.  Let the diameter of the output shaft expand the diameter.  Install the control horn over the balloon.  Keep it mind, this will keep you waterproof, but not submersion proof.  Just zip tie the open end of the balloon and you're ready to go!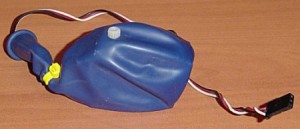 2.) Plasti-Dip Method: This is the preferred method I would choose, albeit slightly more permanent than the balloon method.  Plasti-Dip is a soft gooey liquid that leaves a rubbery film over anything that gets dipped into it.  Just get yourself some plasti-dip and proceed to dunking your servo in!  Make sure your lower it by the output shaft as seen below.
Alternatively, you can use silicone sealant, just make sure that the gap between the output shaft and the servo housing is as tight as possible.
Receiver waterproofing
This is the most important component that you can ever waterproof.  This is the hub of all communication between you, itself, speed control, and the servos.  Not to mention, it is one of the more pricey components to replace.  Many receivers in RC cars come in a receiver box, where the lines run in and out of the box in nice neat little holes cut out.  If not, it might be useful to find one for that receiver.  You can adapt almost any receiver box to work with any truck.  Anyways, you'll want to use silicone sealant to seal these small gaps.
Get creative! You can even make your own waterproof receiver box.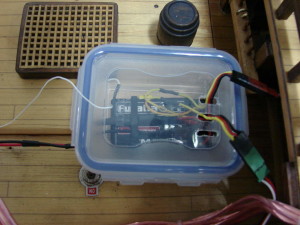 If you don't have a receiver box to seal, use the balloon method, just like we did with the servo above.  When using this method, don't cut any additional holes.  Just use the balloon entrance to run all of the wires/antenna through, then wrap up tight with a zip tie
  Waterproofing your Speed Controller
This along with the receiver is one of the highest priority items that you should be waterproofing.  While just as important as the receiver, it is a little more cumbersome to waterproof.  Why? Because we can't simply encase it in a balloon or some small container.  As you know, the speed controller gets really hot and requires good ventilation.  Now, the point here is to preserve your electronics, not damage them; so lets do this right!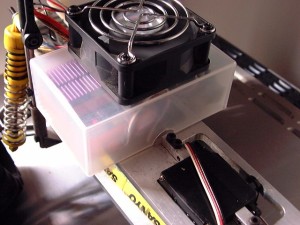 This might involve some trial and error, and constant temperature monitoring to make sure it does not overheat.  Luckily for us, rock crawlers tend to not get as hot as high speed RC cars, but it is still a concern for us. Whats the best option? Buy a waterproof ESC (yes they make those!) If not, lets do some waterproofing!  The concept is the same as a receiver, except to NOT use the balloon method.  If your ESC has fins, you can cut appropraite fin slips in the plastic container and seal the edges with silicone sealant.
Misc components.
Connections: Battery plugs, exposed wire.
Take care of these misc components by wrapping tightly in electrical tape and/or a light spray or later of plasti-dip.  Silicone sealant also works good too.  The main idea is to keep all electrical leads separated in any ionic substance (like non-pure water).
When cleaning off after a water-splashing session, don't forget to lube all components. WD-40 used sparingly for the motor is good enough to keep all bearings lubricated and metal parts protected.