Traxxas Summit RTR 1/10 Review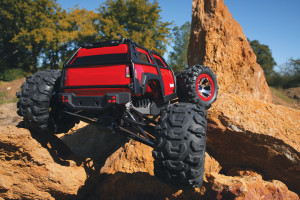 I have seen Traxxas put out a number of monster trucks over the years, but none as capable of rock crawling as the Traxxas summit. With that said, the Traxxas summit is severely underrated as a rock crawler. This is simply because it is not explicitly advertized as a rock crawler. With huge tires, low/high gearing availability, locking differential and high torque drive train, it has everything that an rc rock crawler would require!
From: Traxxas
Purchase at: Amazon, Hobby People, or your local hobby shop.
Out of the Box: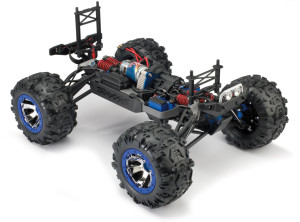 You'll first notice that the tires are astonishingly huge! Included also is a SUV styled pre-painted body. It doesn't end there! The shell has full functioning LED's for evening or nighttime action; a total of 10 LED's to be exact. You will also notice that the body has a protecting roll cage on the outside, much like an exoskeleton. If you are new to bigger styled RC trucks, you'll be surprised to find 5 servos under the shell of this puppy. These servos are for the locking differential and high/low gear changing actuations…more on that later! The required rechargeable batteries and charger is also included in this RTR setup. Other trucks like the Wraith require the battery to be purchased separately…so this is a real treat! Did i mention weight yet? The Taxxas Summit is heavy! But you'd expect that from its astonishing size.
So why does the Traxxas summit have a 4 channel radio? Lets list out the functions that each need a channel.
Channel 1.) Throttle
Channel 2.) Steering
Channel 3.) High/Low gear changing
Channel 4.) Lock/Un-lock differential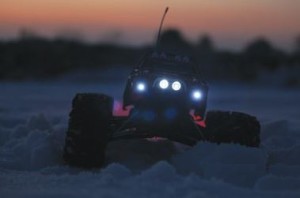 Channel 3 and 4 is what really gives the Traxxas Summit its rock crawling capabilities. At low speed rock crawling, you would have the differentials locked so that both sides turn at the same speed, regardless if one is up in the air or not. The Low gear gives the Traxxas summit super high torque to easily the climb the steepest inclines. Believe me, this thing is powerful and heavy enough to move your furniture.
All-terrain-proof
All of the electronics are sealed and waterproof; so fear not driving directly into the swimming pool…and yes it even floats. Thanks to those huge tires.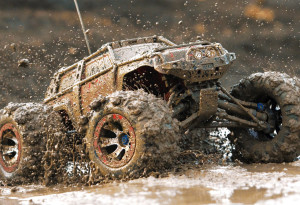 First i will certainly start with basic appearances. the vehicle looks bad ass. the body differs anything ever i have seen, the tires are vigorous, the stance is assertive, the lights produce a great touch, and it simply LOOKS throughout mean!
under the physical body, it seems a little confined, however well laid out. all the bigger elements are right where they should be, with all the additional stuff squeezed in around them. i like the battery holders adverse the side, and the layout although challenging, looks wonderful. i don't truly like the method the diff locking device is laid out. there are long linkages that go the length of the chassis for the diffs. they are run below the various other things so they are out of the method and secure from damages, however if they do acquire ruined, your in for a few hours replacing them. the diffs and the trans are controlled by 3 of the micro servos, without room for comprehensive sized systems if demand be.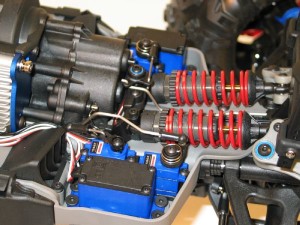 basic driving, is simply that. general. the very first equipment is rather low and offers the gear some grunt, but the wheel rate just isn't there. you cant also obtain the front end off the ground due to the fact that you hit leading rpm to quickly. i climbed around on a number of piles of gunk in the neighbors garage, and i could possibly inform the low gear also helped. i steered over the exact same stones i crawl on with the ax10 and it didn't have much difficulty with them, but it is 3 times larger after that the ax10. it still acquired hung up and high centered on an area or two. the higher gear is decent, however to high for great wheelies (if you such as that) as well as in "high" the gear was un-impressively slow-moving. my e-savage and the kids pede would certainly stroll off and leave it with no troubles. This was all done on 12 cells. The rig will certainly deal with more and in the near future i plan on getting 2 7 cell packs. hopefully this will wake up the monster.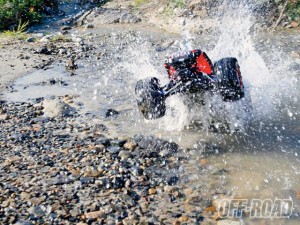 the diffs, have three environments: all opened, front secured, and all secured. i did most of the driving in all unlocked like a "4w higher" configuration. i only made use of the locks when required like for the filth heaps, or the rocks, or climbing over brush and visuals. even in opened system it would drive over normal street visuals without also a tire turning. although the securing is cool, its not best taken advantage of in this gear. i would certainly point out uniqueness at finest.
suspension, is evil. its very deluxe and absorbs everything i threw at it, curbs, bumps, stones, i also blasted over some 4×4 posts at rate. it has the LT rockers on the revo design on-board shocks. the shocks come stock tough layered and TI shafts. although i would have suched as to see some shock covers on a rig developed to "go anywhere" (including water) such as this one. I wasn't overly challenging on the rig but i had not been easy on it either and i didn't crack anything yet. i traction rolled it as soon as, however i was pressing it to see excess. it usually merely leans with it.
the tires, are very soft for an MT but don't balloon to bad (mostly because it never acquired a bunch of speed up). they have excellent traction on every little thing Ive navigated on and appear to hold up well. they are very soft though and have almost a stickiness to them when tidy. the wheels are not bead-locks, yet just rather sounds that screw onto the tire for appearances.
water-resistant ?? YES IT IS! i made sure to test that claim thoroughly by driving it strait into waist deep standing water. I had planned on driving best around, yet the big tires on this point made it drift. the lugs on the tires weren't sufficient to get it relocating very fast in the water so i retreated back to semi dry land. i after that blasted through puddles, and a "stream" that was developing from the water flowing out from behind my home. the only problem i saw was the LED's eliminated a few times.
the radio, is a normal traxxas device, customized with a 3 method switch over up by the wheel (wtf) to reposition the diffs to there 3 setups.
in short, the truck does a lot of things but none of them extremely well. for a basic basher, your gonna need more energy. For what i wanted the rig for, its perfect. I desired a rig that might go practically anywhere. near crawling abilities when required, yet nice speed when required as well. When i create my watercraft trailer this will be my tow gear so the securing diffs will aid with that as well.