RTR VS. KITs
The common question that comes up for beginner to advance RC rock car enthusiasts is: should I buy the RTR version or the Kit version.  There are pros and cons to both, and both options are suited to both beginners and advance hobbyists.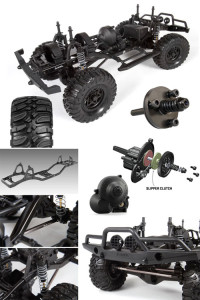 The most common question involves the compatibility of beginners and kits. The short answer is: beginners shouldn't be afraid of Kits.  Kits usually include written and visual instructions, as well as pictorial aids.
There are also many internet forum communities that are more than willing to offer a hand.  They can not only help with the build, but also suggest electrical components best for your needs.  So don't be afraid to ask! Everyone starts somewhere.
Contrary to what you may think, I would recommend a kit to a beginner at rc rock crawling.  These trucks have special geometries built into their suspension, and knowing these geometries allows you to better know what your truck is capable of.
RTR
Pros:
Instant satisfaction.
Take out of box – charge – run
All electrical components (Motor, servos, ESC) already selected
Simple
Cons:
Eventually you will break your RC truck, and you will be at a disadvantage because you don't know how this truck is put together…because you weren't the one to assemble it.
All Electrical components already selected (yes this is also a con).  What if you wanted to use a more powerful motor? Or waterproof components?
Kits
Pros:
As the sole assembler, you will be an expert on how your rc rock crawler works and functions, and also be aware of component weak spots to be careful for.
You gain confidence knowing that each nut and bolt is torqued as required, and nothing is left loose.
Knowing the truck so well, you will be able to seamlessly perform maintenance.
In a generation where almost every toy seems to conjure instant gratification, RTR rc rock crawlers and trucks instill a sense of accomplishment and pride with every build.
Cons:
Takes time that not everyone has.
Requires you do buy your own motor, etc, servos, etc. Again, I really don't think this is a con, however, it will just take more time and research into your choices.
As a hardcore enthusiast myself, I obviously prefer kits.  Keep in mind, I am a hands on person who has always liked tinkering with things.  From legos and erector sets as a kid, to rc rock crawlers, rc planes, and cars as an adult.  Understandably, many people are like this, but don't have much free time to dedicate to this hobby.  This is the beauty of having so many options available, as you'll always be able to find the right rc rock crawler for you.  Check the above menu tabs for some of my favorite options in each category.