Redcat Racing Rockslide rs10 Review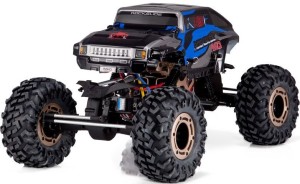 Although the Rockslide RS10 was introduced as an entry level rock crawler, you'll find that this truck as just as capable as those other mid to high level trucks. Seeing what other entry level rock crawlers have to offer, I can say that this one is packed with the guts to get you anywhere. Read on to learn more about the 1/10 scale Redcat Racing Rockslide RS10!
From: Redcat Racing
Purchase at:

Amazon

, or your local hobby shop.
First impression out of the box.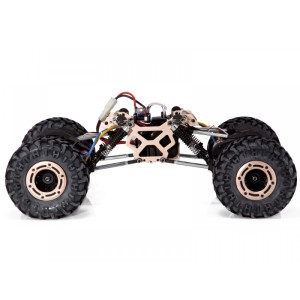 You'll see that this truck is almost all tire, and that's obvious too when you open up the box. I don't think you'll find tires like this on any other truck. At ~200$ for an entry level rock crawler, you'd expect a lot, and you wouldn't be disappointed either.
Redcat has spared no expense in using high quality materials and fabrication methods. Not to mention it features a multi-function all wheel steering system. I'm a bit shamed to admit, but this little entry level rock crawler also happens to be my first all wheel steering rock crawler.
What you get in the box:

Rockslide rs10 truck + body shell
Controller (requires 8 AA batteries)
6-cell battery pack
charger
instructions
Drive train and suspension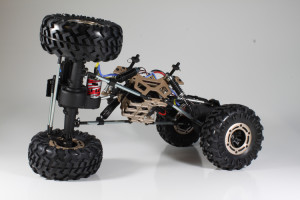 The RC rock crawling world has developed something they call "MOA", also known as motor on axles. Obviously, this is when each set of axles have their own driving motors. What does this implication mean for us? It means that there are no drive lines required running from a central motor. As you can see from the image on the left, it allows the axles to rotate about 90 degrees, which can come in handy for some radical rock crawling. This is also good for weight distribution; the motors are placed directly in like with the wheels, which is where you want your weight to be. When the motors are located below or at the axle, this also lowers the center of gravity, so you don't end up flipping over and embarrass yourself in front of your friends.
Ground clearance is not an issue with this rock crawler, thanks to a V shaped down-swept axle shape.
Off Road Performance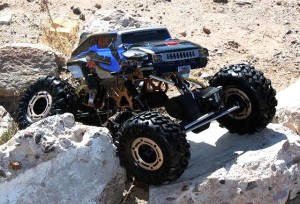 I took the Rockslide RS10 to a hiking trail that I frequent in Orange County where I knew there would be plenty of rock crawling and off road action.
Rocks or flat ground, you'll find that throttle response is very responsive, yet smooth. No torque lacking at all. As you'd expect its not the quickest think on flat ground, but its enough to scoot around. Flat ground handling felt great and stable, but who buys a rock crawler for the flat ground? Lets give this thing some real action!
As someone who started off with rally trucks, I'm always amazed how the unique engineering of rock crawlers allow them to traverse such obstacles…and this truck is no different. In fact, for an "entry level" truck, I was surprised.
The 2.4 ghz remote control along with the 4 wheel steering make this a machine of precision. Its important to have precision on your side when scaling narrow inclines between rocks, or if you are on the verge of tipping over. Included with the controller also are dual rates for adjustability and adaptability for ever changing environments. Choosing between the 4 wheel steering modes (see below) is easy to change from the remote; for easy and quick transitions on the fly. This comes in handy because you might need a quick change mid-crawl to make it to the top. Now you see why each axle gets its own servo. This also helped with steering torque. This in conjunction with the locking differentials make this truck practically unstoppable.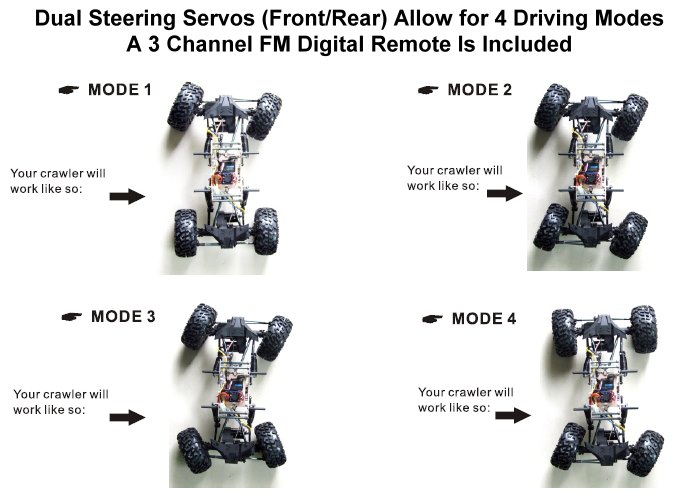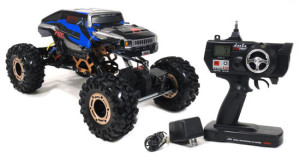 The chassis looks like wood at first, but its not! Its a lightweight aluminum alloy, from which the electronic speed control and receiver are perched upon. The electronic speed control even has a mini cooling fan to prevent overheating. Rally/trophy rucks don't need this because their higher speed allows for natural convection. Powering two 70T, 380 sized motors, this speed control definitely has a tendency to get hot.
Overall
The Rockslide rs10 has all the features of a professional unlimited class rc rock crawler, but with the affordability of an entry level crawler. It is packed with great features, and even though the tires are a bit hard and stiff, the treading tends to make up for it. My recommendation is to use as aftermarket charger, as the supplied charge does not give any information about charging progress (how are you supposed to know when to take it off the charger??), besides timing it and guessing. For me, I was to run the truck as soon as its done charger, not a second later! But I'm impatient if you couldn't tell, and most people will be okay with the supplied charger.