Axial Wraith Reivew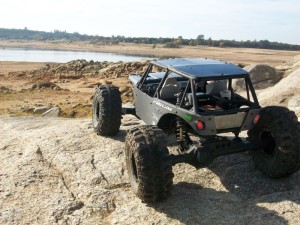 The Axial Wraith has created ripples throughout the rock crawling community. Its popularity is a true testimate to this rock crawlers craftsmanship and and ingenuity. In the sneak peak images, before this truck was announced as a rock crawler, no one had a clue what Axial had up their sleeves. Surely, the rock crawling community has been ecstatic about this fine crawler. Anyway, lets get down to the good stuff!
From: Axial Racing
Purchase at:

Amazon

,

Hobby People

, or your local hobby shop.
Out of the Box: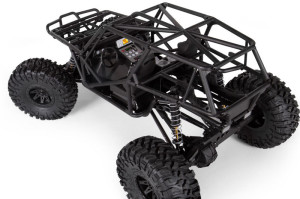 As a RTR rock crawler, the Axial wraith comes fully assembled and ready for instant action. For some, this might actually be a turn off, as the hard core guys like to build their own trucks. However, the aim of this truck is the general audience who don't want to devote a big chunk of time building their truck. Don't worry though, that doesn't mean that this truck is not modifiable, as it most definitely is! The components in this truck are actually very high quality, as in parts that people building their own truck would use; such as a Castle Creations electric speed control (ESC), and a torqy 20T brushed motor.
Judging time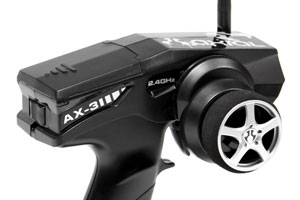 New truck excitement aside (trust me, that was hard to put aside), the Axial Wraith proves to be a complete stunner. Aesthetically, the Axial wraith is paraded with detail and engineered looking much like a scale truck. It was pretty amazing, however, this was probably the first and last time I would be seeing this truck clean. I had plans for this truck, big plans. It did seem a bit top heavy, which I was worried about, but we'll see that this wasn't a huge factor affecting its rock crawling-ability.
Who should buy this truck?
The magic of this truck is that it was not just build to be a rock crawler. It was truly built with all off-road types in mind. Ultimately, it is intended for people who want to do everything. There are other crawlers that might be better at rock crawling, but they definitely wont have the speed and agility of the Axial Wraith. Likewise, there are other rally trophy trucks that are faster and more agile, but you wont see them going over any boulders! Now you see why Axial refers to this truck as a "Rock Racer". It will definitely take jumps at high speed and stir up the dust on demand.
How does it drive?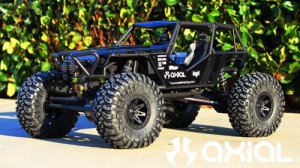 At high speeds, the Axial wraith appears to be a bit squirmy, probably due to its tall narrow tires and squishy suspension. If someone wanted to turn this into a higher speed truck, you could easily change the wheels and add spacers to the shocks to make the springs stiffer. With that said, its something that you will get used to, and it actually handles like a champ once you learn it. I want to stress the word learn, as it is different from other RC trucks many people might be used to. Its not a truck you want to trash around, but rather a truck that likes driven like a full size truck, and for that you will be rewarded.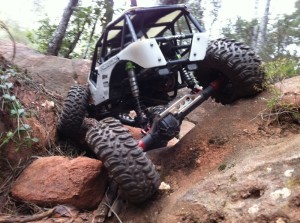 Slow speed rock crawling is where this truck shines. While not as capable as unlimited class rock crawlers, the axial wraith is capable enough as long as you think and plan your rock crawling accordingly. And that's the fun part right? Just being able to point the truck in any direction and crawl is no fun without any thinking, wheres the challenge in that? I just absolutely love the challenge, its what keeps me coming back.
To improve handling there is something you can do that costs absolutely nothing. Simply locate the battery underneath the dash, as opposed to the default location. This is will have a drastic effect to the center of gravity (lowering it), and also reducing its tendency to roll. It also helps add more traction to the front wheels: good for those steep inclines.
This is really a niche truck, intended for a specific customer in mind. These tend to be the people who have had plenty of RC car/truck experience, but want more of a challenge. If you love to move your trucks, you'll have tons of fun with truck, as there is a lot of room for modding.