Axial SCX10 Honcho Review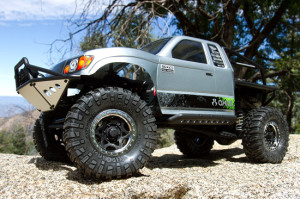 Axial racing has stepped up to become a big player in the rc rock crawling world, with their next target appearing to be the scale rock crawling crowd. I am definitely not going to complain with this. I love scale things; planes, cars, boats, models that look like the real thing. It truly is like the real thing, only scaled down. Axial really set the bar high when they decided to make a scale model of the trail Honch, as the scale rock crawling community would expect nothing less than perfect. Not to say we're picky, but we want them to do as they claim.
From: Axial Racing
Purchase at:

Amazon

, or your local hobby shop.
Out of the Box:
Bam! Hope you aren't too disappointed, as the truck already comes fully assembled…though I hope you also ordered a battery and charger at the same time as you bought the truck, as it does not come with one. This is a good thing, and gives you the ability to choose your own battery, or use one you already have. It would have otherwise just been included in the price of the truck. Right away, you'll notice the accurate proportions, similar to an actual truck it is meant to portray.
Build Quality: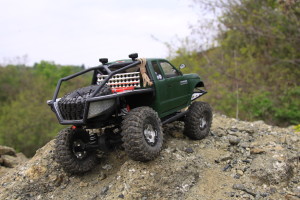 The Axial Honch is rigid in the right places, and flexible where it needs to be. Nothing about this being a "scale" rock crawler stops this rock crawler from performing excellently. Even compared to the ulimited competition class X10 Scorpion, it is a very capable machine. I was extremely impressed by the realistic looking truck frame that came on this truck, or truggy (truck/buggy), as often referred to.
Drive Train: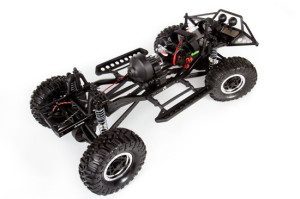 Getting down to the nitty gritty, there's only one thing you have to know about the drive train: bullet proof. The differential locker alone is made from sintered metal. This is a material manufacturing process in the world of metallurgy, which basically means pretty damn strong. These trucks are meant to handle high torque, so these hardened axle shafts are at home in this drive train. Speaking of high torque, the motor and gearbox produces to much torque, that Axial had to include a slipper clutch, which allows the transmission to slip when too much torque get sent to the drive train. This break-away torque would otherwise be transferred to the drive train. This ensures longevity. Sure, the drive train can contain all sorts of hardened metals, but its easy to underestimate the amount of torque this motor creates…so I recommend a slipper clutch whenever possible.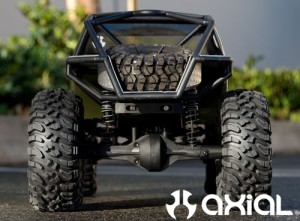 Compared to other rc rock crawlers, the tires were very soft and grippy! A good set of tires really compliment the fantastic suspension of this truck. Looking to beef up your tires? You can even fit 2.2 Ripsaw tires to this truck (see image to left). The wheels are direct bold on's, but will require some body trimming or some custom body lifting. The tires make the truck look less scale-ish, but where you lose in real-life factor, you gain in rock crawling performance.
Control
Axial uses the tested and proven AX-3 2.4ghz controller to tame this beast. The precise and crisp response of the 2.4ghz band really comes to this crawlers advantage. The days of the jaggedy-ghosty resposed 27mhz radios are thankfully gone; plus you don't have to worry about other people being on your channel any more. Accidentally turn off the radio while the truck is still on? Don't worry, it wont go crazy then drive itself into the lake-instead it will just do nothing. The strong digital servo has more than enough torque to get it out of a bind, whether it be tall grass or you are traversing a narrow passage.
Crawling Performance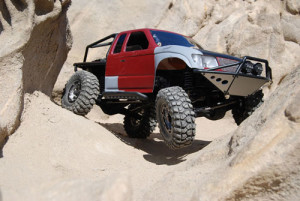 The 4 link in the rear and 3 link in the front will keep the truck stable, yet flexible where it needs to be. The links keep the axles from turning or rotating where they shouldn't. It makes sure the only wheels steering the truck are the front wheels only! Axial really knew what they were doing with the SCX10 truck, and I image many design iterations and prototypes were utilized to reach this final design. It may not look like an unlimited class rock crawler, but it will perform on a similar level, especially with that tire upgrade above. The crawling performance is great, and you'll begin to better notice your surroundings when driving this truck. I hadn't realize my front yard had so much rock crawling/obstacle potential.