Best RC Rock Crawler 2015
Explore extreme terrain with confidence with RC rock crawlers, and go where no other vehicle can go.  Rock crawlers are extremely modified trucks, jeeps, or buggies in order to overcome severe obstacles.
What Makes Rock Crawlers different?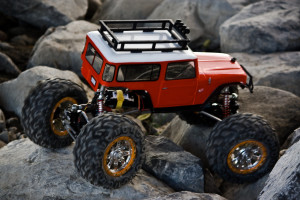 The main difference between RC rock crawlers and other RC trucks is mostly in the suspension, power train, and chassis, so basically…everything is different.  The suspension must have a longer travel for those high angle of attacks.  Many RC rock crawlers also have four wheel steering to allow for a very tight turning radius.  Maneuverability is an absolute key in order to successful navigate ungodly placed boulders.  In the world of RC rock crawlers, there are two main types of trucks, competition crawlers, and scale crawlers.  Competition crawlers break all rules in order to gain the advantage over the terrain, while scale rock crawlers look more like full sized trucks, but lack crawling potential.  With the explosion of RC rock crawling as a hobby, there are now many options available that are a good compromise of the two.
Tired of reading? Here are 3 of my personal top 3 picks.
| RC Rock Crawler & Link | | | |
| --- | --- | --- | --- |
| Featured highlights | Combination of high speed stadium truck+ Excellent slow speed Rock Crawling Abilities | An Absolute rock destroyer. | Rigid Custom Green Anodized Frame |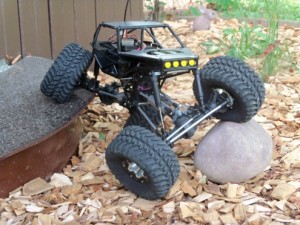 As far as power transmission, a very powerful motor is usually not required, since torque is what we are after here.  With the at said, a good reduction gearbox will provide maximum torque from small motor.  This is fine, since rock crawlers are not meant to move fast. Another important feature for all rock crawlers are locking differentials.  Oftentimes when crawling rocks, one wheel will end up in the air, this is routine.  Without a locking differential, that one wheel that ends up in the air will end up spinning, while the wheel on the ground does nothing.  In this case, all power is sent to the wheel with the least traction, and this is not good in the world of rock crawling, radio controlled or full sized trucks.  With a locking differential, power will be split evenly to each wheel, and all will rotate at the same speed.
.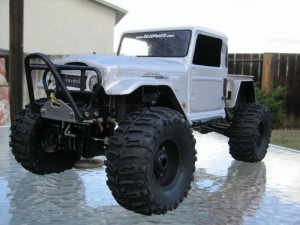 A set of tall aggressively treaded tires are a must.  Tiny little wheels will not be able to make that initial bite into a rock to even begin climbing it, and you will probably end up running home crying.  In full sized trucks, tires are often set at a lower pressure, using special fasteners to keep the tire on the rim.  In the RC rock crawler world, there is no need, since tires contain no air pressure, and are already soft to begin with.
When crawling extreme terrain, you may want to ensure that you have a roll cage to protect all of your electronic components, and especially your dummy driver.  Rollovers are inevitable, and you don't want to risk smashing something important on the way down.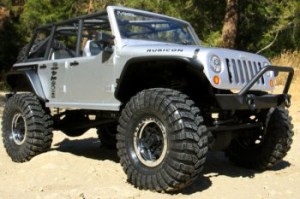 It seems as if the craze for rock crawling is ending up being a lot more prominent with every passing day, maturing with off road vehicles such as monster trucks, stadium trucks or merely your straightforward cross-country trail car.
In the RC industry, there are many platforms that are being utilized to produce these radio controlled rock crawler models.  I have constantly been a devoted off-road lover, and considering that the demand for RC rock crawlers has become more popular I decided to take among our systems and generate a competitive rock crawler.
The truck was effective and outstanding when it pertained to dealing with, nevertheless I was not absolutely satisfied with the run time or the time it took to reenergize, and its weight when lugging it around. Exactly what I needed was something a little lighter, smaller sized and something that would certainly work on one battery and one electric motor. It had not been long after the TLT-1 entered your mind. I had actually shelved this job time back, but when I read about a few of the conversions being created I chose rethink at it. Without worries concerning shedding my once stock TLT-1 to an impressive rock spider, I began tearing it apart and utilizing whatever I had lying around the garage. I had completed this job in one early morning, except for exercising a few imperfections. My maiden voyage with this automobile was more than impressive and I quickly neglected that it used to be a 1/18 scale Mini R/C truck.
Generally, after having several different kinds of RC rock crawlers, this one has possibly gotten the most attention and is by far my preferred to date. With this sporting activity expanding much more each day, I feel that the TLT-1 is a wonderful system to increase on and definitely has great potential to come to be a very competitive rock crawler.